When I was little, I remember how much fun it was to make DIY Christmas tree ornaments! Of course, back then we didn't have the Internet to give us a bunch of clever craft ideas, so our ornaments were pretty basic. But still, I had a lot of fun! Now that I'm a mom, I'm creating a DIY Christmas tree ornament tradition with my kids, too! And unlike my crude salt dough ornaments and hand print garlands, they get to make DIY ornaments that come out looking pretty snazzy! For a fun homemade ornament to make with your kids, try this Mini Mason Jar Lid Ring Wreath- DIY Christmas Tree Ornament!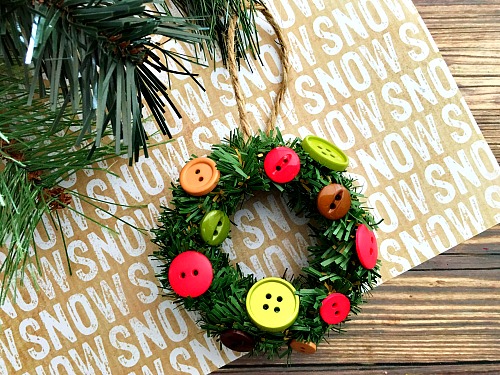 My kids are old enough to know how to use a hot glue gun (and since they help me with crafts often, they're pretty skilled with one!). But if your kids are younger, you may have to do the hot gluing part of this project for them. But you can definitely let them choose how they want to decorate their homemade wreath ornament, and have them point out where each piece should be glued! I used buttons on mine, but you could also use tiny pom poms, beads, foam shapes (stars, circles, etc.), and so on.
The base of this wreath is a Mason jar lid ring. I love how versatile Mason jars are! I use whole jars with their lids, just their lids (especially for baking in), and just their lid rings, for projects like these.
Mini Mason Jar Lid Ring Wreath- DIY Christmas Tree Ornament
Materials
Mason jar lid ring
Pine roping garland pieces
Red, green, and brown buttons
Hemp twine
Hot glue/hot glue gun
Scissors
Directions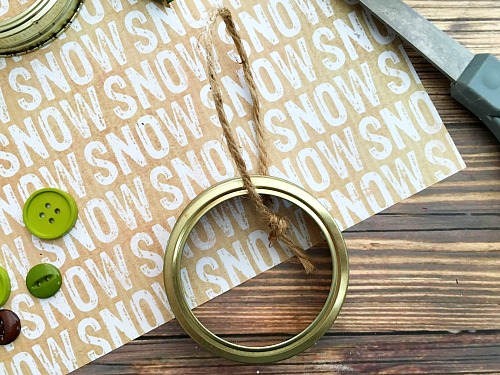 1. Cut a piece of twine around 7″, loop it though your lid ring, and tie the two ends together in a knot.
2. Hot glue the twine knot inside the lid.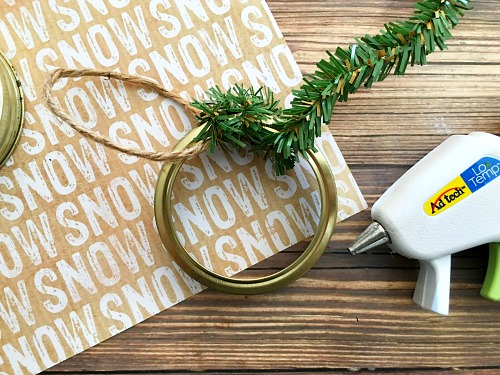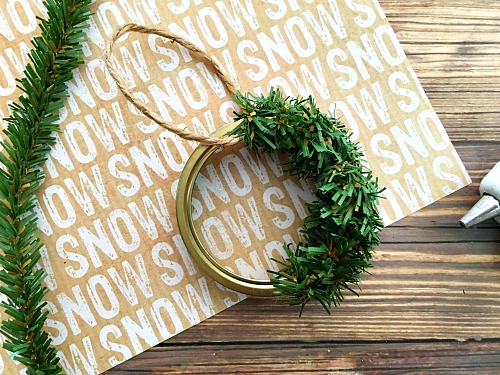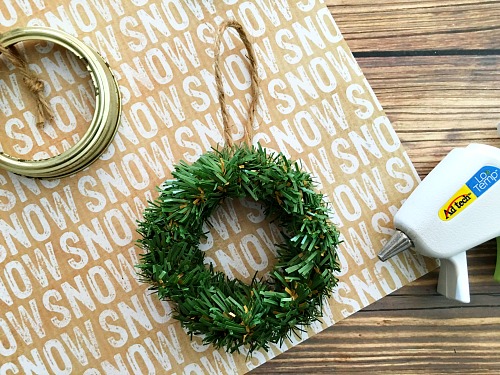 3. Now glue the end piece of pine garland next to your twine knot and begin wrapping the pine garland all the way around the lid ring, hot gluing all the end pieces inside the ring until the whole ring is covered in pine garland.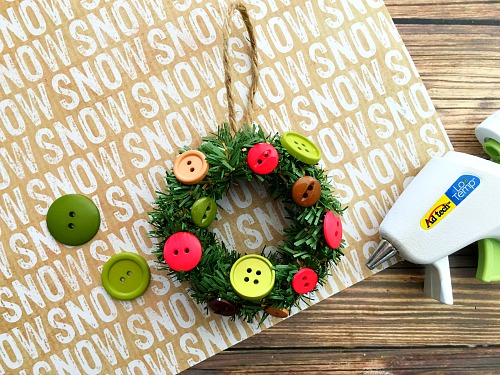 Pin4. Now hot glue your buttons onto the pine garland to finish off your mini wreath DIY Christmas tree ornament!