I have tried a lot of different detanglers for my daughter's hair! I've even tried the semi-homemade kind where you mix water and commercial conditioner. That one was very easy to make and smelled nice- but I still felt like I was putting too many chemicals in my daughter's hair. The sulfates, coloring, fragrance, and hydrolyzed-something or others just had no place on her young and healthy head. I love experimenting with essential oils and other simple ingredients so I knew there had to be a better option for her hair. We tried a few different mixes, some were too oily, some didn't do the trick of detangling well at all. This was our favorite! It is light, smells heavenly, and helps smooth out the tangles beautifully! But this detangler is not just for little girls, anyone who needs a hair refresher/detangler/leave-in-conditioner will benefit from it! Make this homemade Herbal Hair Detangler and untangle your hair naturally!
You can use your favorite essential oils in this recipe to make your own wonderfully scented blend. Remember, if you have citrus essential oils, they should always be kept in dark colored glass bottles (they're sensitive to sunlight).
Herbal Hair Detangler
Ingredients
1 cup distilled water
1 T. vegetable glycerin
1 tsp. vitamin e oil
1 tsp. sweet almond oil
3-7 drops essential oil
Here are a few essential oils and how they can help your hair and scalp:
Lavender– helps with itchiness and dandruff
Rosemary- to add shine, promote growth
Basil- for oily hair
Lemon- gives highlights, balances scalp oils
Peppermint- for dry hair
Tea tree- for dry scalp, deters lice
Directions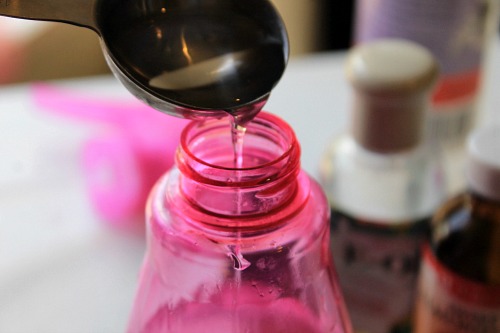 1. Combine all ingredients in a spray bottle, then shake well to combine.
2. Shake before each use.
3. Spray hair liberally with your homemade herbal hair detangler and comb through gently to remove tangles.