I had this ugly old lamp that I kept looking at. I wanted to do something about it, but I was a little intimidated, so I put it off for a while. Then one day I decided to try updating it, and if it worked out great. If not, oh well it was ugly anyway! It turned out to be a very easy process with a great result, so I'm glad I tried! If you've got an old lamp that could use some help, take a look at this Easy DIY Way to Revive an Old Lamp Shade!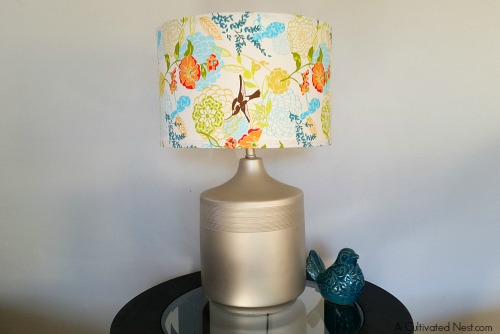 Disclosure: This post may contain affiliate links to Amazon and/or Etsy, which means that I may earn a small commission from some of the links in this post. Please see our Disclosure Page for more information.
This may not be the most proper way to revamp a lamp shade, but several weeks in with kids (who knew they could be so hard on lamps?) mine still looks great! So this DIY way to revive an old lamp shade worked for me!
Easy DIY Way to Revive an Old Lamp Shade
Materials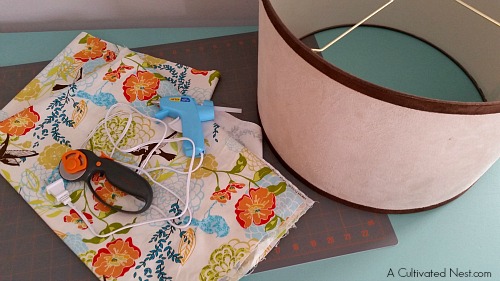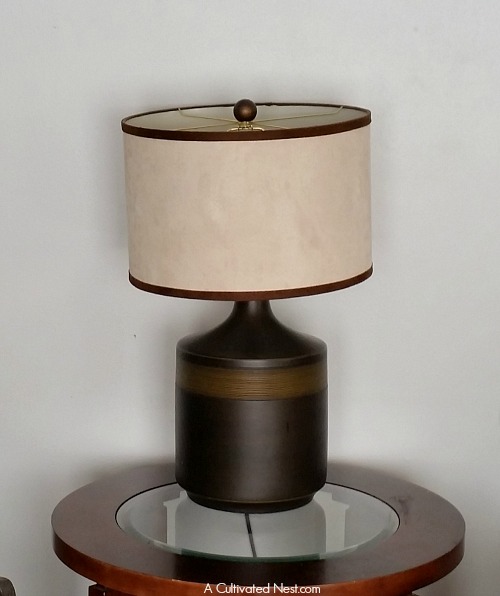 An old lamp
Fabric that measures 1.5 inches longer than the width of your lamp shade, and about an inch longer than the circumference.
Hot glue gun
Spray paint (if desired)
Scissors or rotary cutter
Cutting mat (optional)
Instructions
1. Remove the lamp shade. Spray paint the lamp if you like. I wanted a whole new look, so I chose silver to cover up the old brown.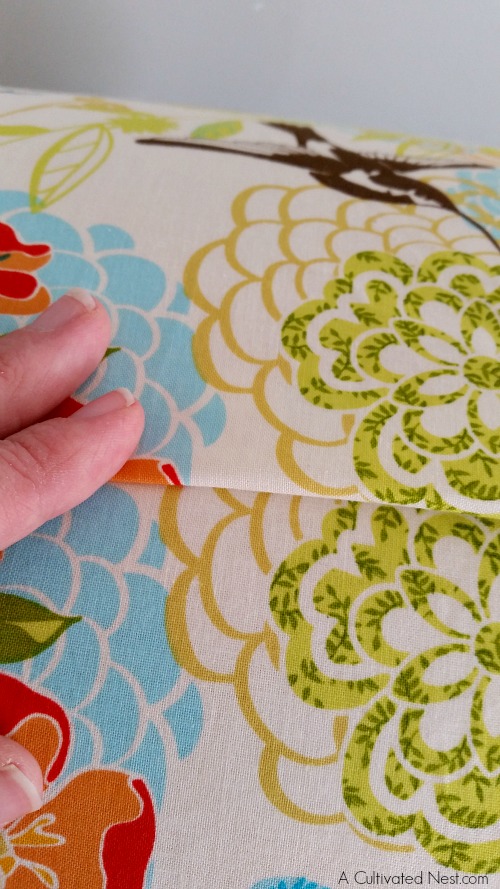 2. Measure the width of your lamp shade, then cut fabric 1.5 inches longer so you have enough to fold over each side. You will need to cut the fabric an inch or two longer than the diameter. I opted for the simplest way and skipped measuring this part altogether. I just wrapped the fabric around the shade until it overlapped, then cut off the excess.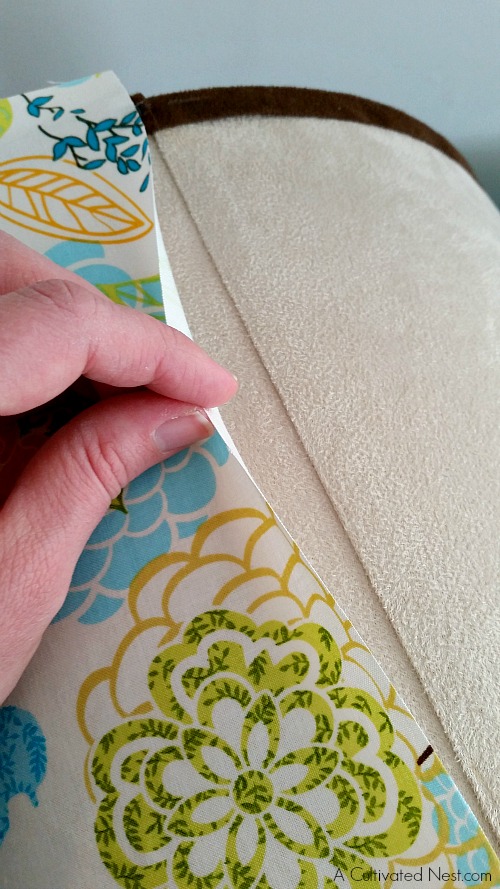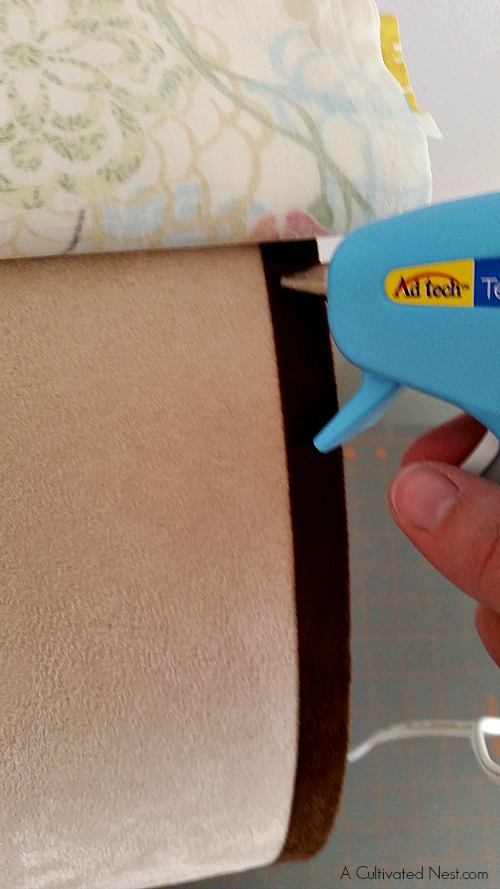 3. Once the fabric is cut, begin at the seam of the shade and apply hot glue to adhere the fabric the the top and bottom of the shade, then more down the seam. Flip the shade onto its side and roll the fabric up leaving the wrong side exposed. This makes it easier to work with. Place short lines of glue (2-3 inches) on each side of the shade. Working in smaller increments allows you time to get the fabric pressed on before the glue cools.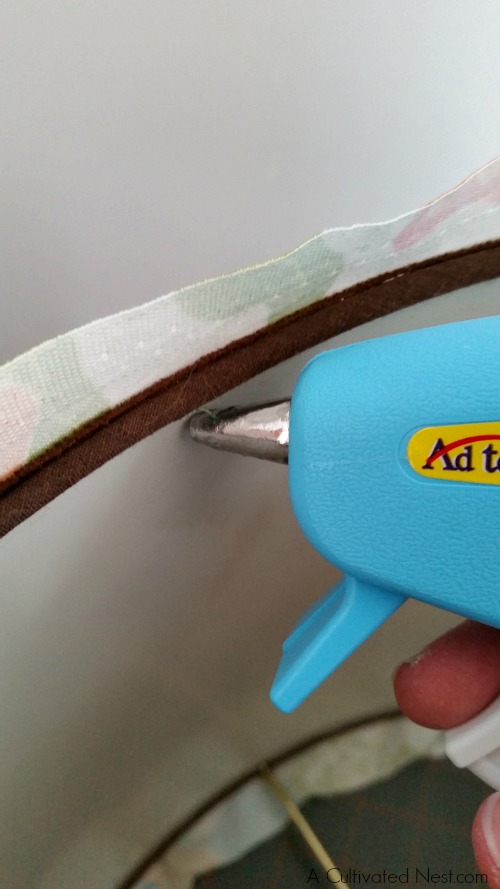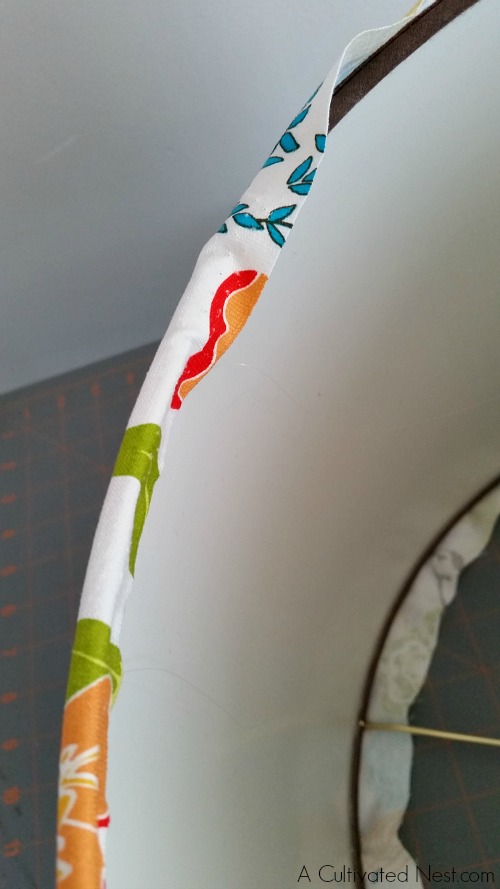 4. Once you've gone all the way around, fold the rough edge under and glue in place.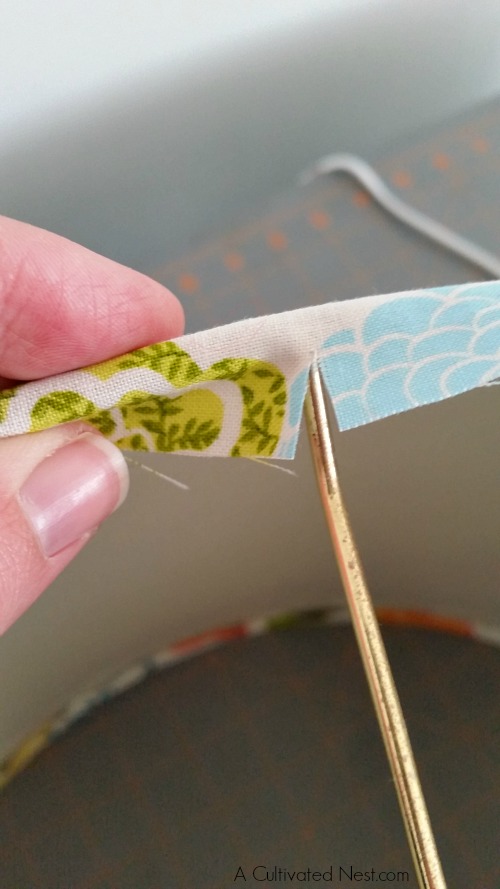 Pin

If there are metal spokes at the top, use scissors to snip so the fabric can be folded over the edges. Use hot glue to adhere the fabric in place along the inside edges, both at the top and bottom of the shade. Put the shade back on the base, and enjoy your new look!