Tomorrow is the first day of December. I can't believe it, it feels like just yesterday it was summer! But now that the weather is getting cooler, I've started prepping the outside of the house for the holidays. As with pretty much all holidays, a pretty wreath is a great place to start! And you don't have to spend a lot to make one, either. This wreath is made completely from items found at the dollar store. $5 total! Here's how I made this Dollar Store Sparkly Snowflake Wreath!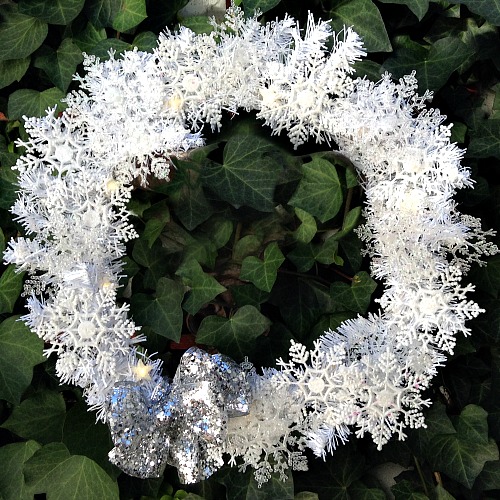 Disclosure: This post may contain affiliate links to Amazon and/or Etsy, which means that I may earn a small commission from some of the links in this post. Please see our Disclosure Page for more information.
This sparkly snowflake wreath would look great paired with some of the DIY outdoor decorations I shared the other day.
I used a silver ribbon for my wreath, but this would also look pretty with a red or deep blue ribbon!
Dollar Store Sparkly Snowflake Wreath
Supplies
1 white 15" wreath
1 roll super sparkly ribbon
1 set battery powered lights
2 packages plastic snowflakes
Hot glue gun/hot glue
School/craft glue
Glitter
Instructions
1. Fluff out the branches of your wreath until it looks they way you like it.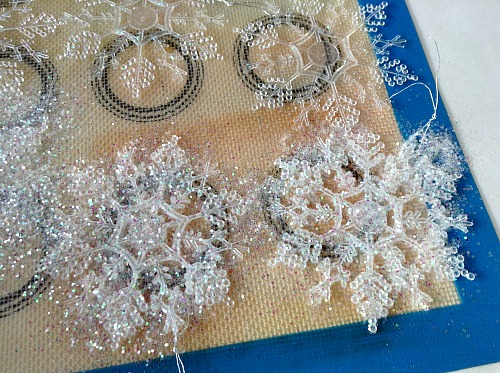 2. Apply glue to the snowflakes (I used plain school glue for this) and sprinkle generously with glitter. Allow to dry. Repeat until all the snowflakes are sufficiently glittered.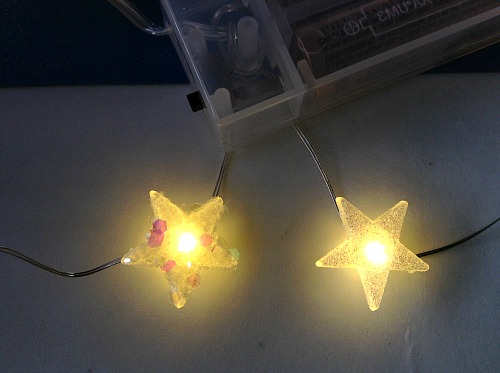 3. Do the same for the string of lights. You can't have too much glitter!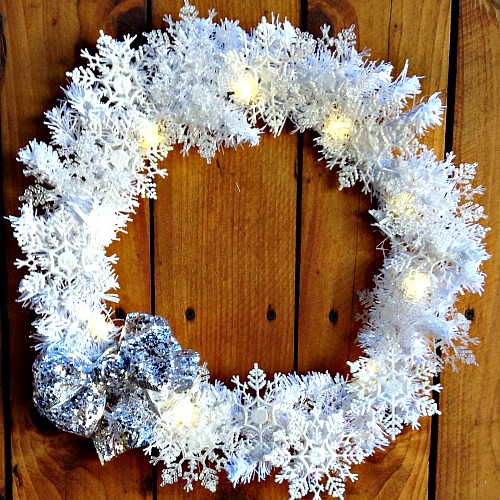 4. Once dry, wrap the string of lights around your wreath, leaving the battery pack near the bottom of the wreath and in the back.
5. Using hot glue, attach the snowflakes to the wreath. Overlapping is fine here, it just makes it more beautiful.
6. At this point, I added additional glue and glitter to areas that needed a little more sparkle.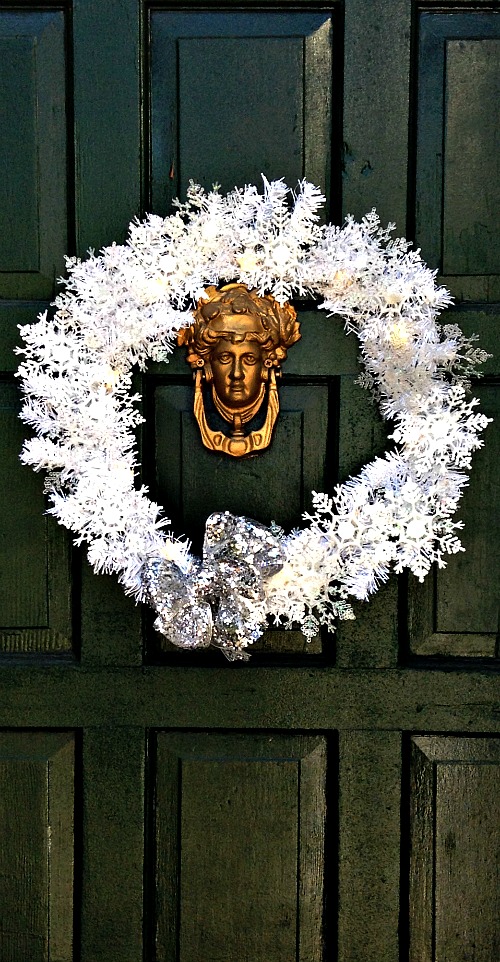 Pin
7. Make a bow and attach it near the bottom of the wreath, incorporating the battery box under the ribbon to stabilize. Then hang and enjoy your sparkly snowflake wreath!